By Barbi Hayes
By 10191 people across the galaxy are addicted to MELANGE, the cinnamon-like SPICE DRUG that acts as both a mystical substance and an energy source. It enhances perceptions and allows interstellar travel through bending of space.
Once addicted, only death allows withdrawal.  The only source of mélange is on the harsh desert planet of Arrakis. Harvesting is hazardous as the deposits are guarded by giant sandworms.  Mélange becomes the sign of wealth and ultimately power. 
"He/she who controls the Spice controls the Universe."  (from 1984 film adaptation of Dune)
So, what is the "spice" of 2022?  LITHIUM – sans guardian sandworms.
Lithium is a key component of the high-density, rechargeable batteries.  With the big push for alternative energy to help address climate change, the demand for critical minerals such as lithium has greatly accelerated.
But metals mining is among the most toxic industries and lithium poses the highest environmental risk.  The method of brine mining requires large quantities of water and producing a ton of lithium carbonate causes three times the emissions of producing a ton of steel.
The U.S. has only one operating lithium mine located in Silver Peak, Nevada.  And 79% of the U.S. reserves are located within 35 miles of Native American ancestral homelands.
The largest known lithium resource in the U.S. is on federal land at Nevada's Thacker Pass, where the Toronto-based company, Lithium Americas, is focused on advancing an open-pit mine. Bureau of Land Mgmt (BLM) granted approval but conservationists and Indigenous activists are fighting the massive project. At the base of the Montana Mountains, Thacker Pass sits on land that is sacred to members of the Paiute and Shoshone Tribe.
The opposition illustrates the debate between economic vs environmental and cultural impacts.
Another proposed mine, which could produce enough lithium each year for the batteries in 400,000 electric cars, is up against a rare wildflower called Tiehm's wild buckwheat.  Ioneer, an Australian-based company, is working to develop a project, known as Rhyolite Ridge, to mine lithium and boron near Tonopah. But the deposit sits beneath the only known habitat of Tiehm's buckwheat, a plant species that is distributed across roughly 10 acres of land.
Also critical for lithium-ion batteries (LiB)is the mineral graphite.  Tesla wants to reduce its dependence on China for graphite and is turning to Syrah Resources, an Australian-based company. Syrah operates one of the world's largest graphite mines in Balama, Mozambique and transfers the mined material to its processing plant in Vidalia, Louisiana in the U.S.
Tesla signed an agreement with Syrah to purchase 80% of what the processing plant in Vidalia produces – 8000 tons of graphite per year – starting in 2025. Tesla plans to make its own batteries for its own EVs.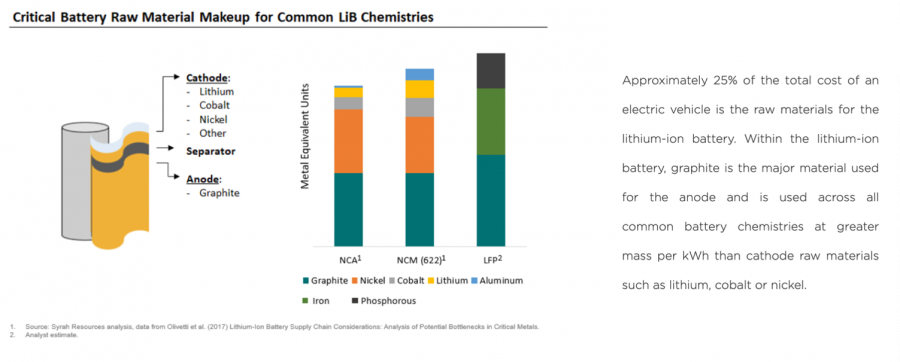 Another key component for LiBs is the critical mineral cobalt.  Most of the global supply of cobalt comes from the Democratic Republic of Congo.  Numerous reports of human rights abuses have emerged from Congolese mines, most of which are controlled by Chinese companies.
Idaho sits atop the biggest deposit of cobalt in North America, aka Idaho Cobalt Belt. A long-planned cobalt mine west of Salmon is expected to begin operation later this year.  Josh Johnson, Idaho Conservation League, said they have partnered with the mining company on a program to protect the Upper Salmon River basin. Jervois Global, an Australian based company, owns this new cobalt mine. Electra Battery Materials, a Canadian company is Jervois's main competitor in the Idaho Cobalt Belt.
"The fact that they are mining cobalt is important," Johnson said. "But we also need to make sure that the cobalt is being extracted in an environmentally responsible way." The defunct Blackbird mine is near this site, where extracting cobalt and other minerals ultimately led to that mine's designation as a Superfund site. Blackbird polluted the Shoshone-Bannock homeland.

Exactly how the critical mineral rush unfolds remains an open question. "The weird mess of the climate crisis is that mining is necessary to green the economy."
It's very interesting to see how interconnected the world is – and how many foreign companies provide jobs to Americans within the U.S.!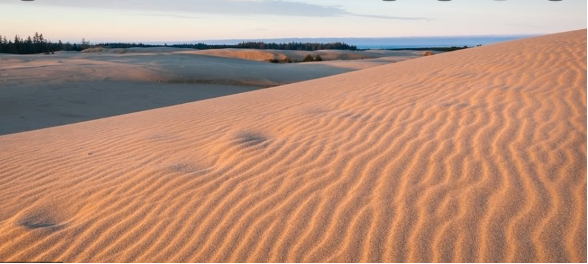 Final thoughts of Duned:
Theme of Dune -> religion and power; human control over ecology
– inspiration for the novel came when author Frank Herbert was following a Dept of Agriculture project on the coast of Oregon where they were trying to stabilize the Oregon sand Dunes.
Time of Dune -> 10191 and human beings have spread out and colonized planets throughout the universe
– think Elon Musk and Jeff Bezos.
History Question
Last week's question:
Who was the first President to use makeup for his TV appearance?
Answer:
Dwight Eisenhower wore makeup in TV ads he cut for the 1952 presidential campaign. "When the cameras rolled, Eisenhower, wearing makeup, his eyeglasses removed, read from cue cards with huge letters.
Blog 22-6 History Question:
Heavy metal band Iron Maiden wrote the song "To Tame a Land".  What was the original working title of the song and on what album did it appear?
Watch for the Full Snow Moon on February 16th, next Wednesday
el final