Songbirds are gone and our feeders are flocked with sparrows, finches, and juncos.  But glance away to the tree trunks and try to catch a glimpse of our winter migrant – the brown creeper (Certhia americana).  He/she/it is the only treecreeper in North America and an uncommon sight in our area. And I don't know if she/he/it is considered "uncommon" due to a small population or to the fact that we easily overlook them.
They have a cryptic brown pattern on their back with distinctive white breast and throat – strikingly two-toned.  Their bill is thin, curved, and very sharp to allow foraging under bark.  They prefer big old trees with coarse and shingly bark. They work their way from the base of a tree, around the trunk and upwards displaying a "creeping" habit.  Then they fly to the base of a new tree and repeat the process – unlike nuthatches who will walk down tree trunks as often as up.  From afar when shimming up the tree, they might be mistaken for a brownish mouse.
Their life literally revolves around bark. Not only do they probe for insects and larvae under bark, but they locate their nests in the space between the bark and trunk.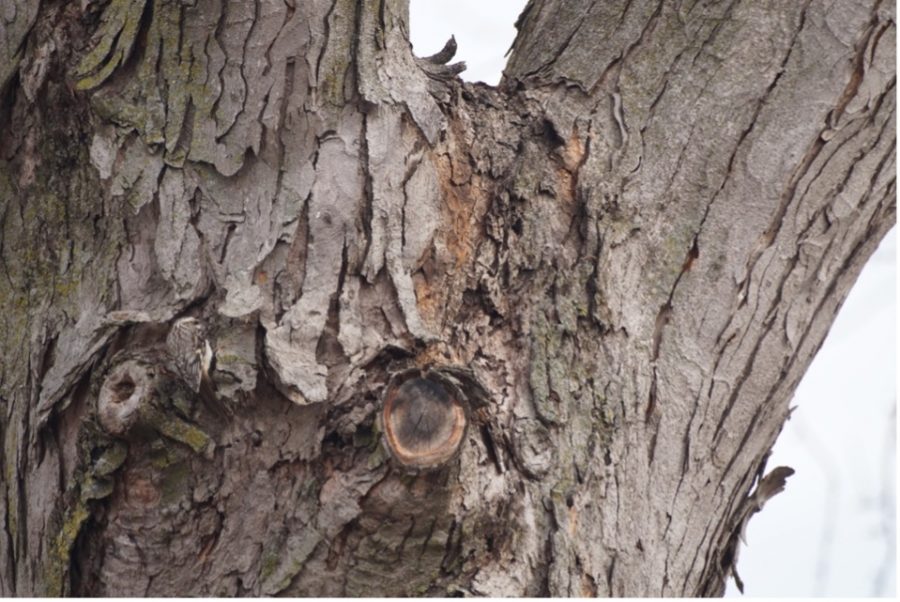 cryptic pattern by left knot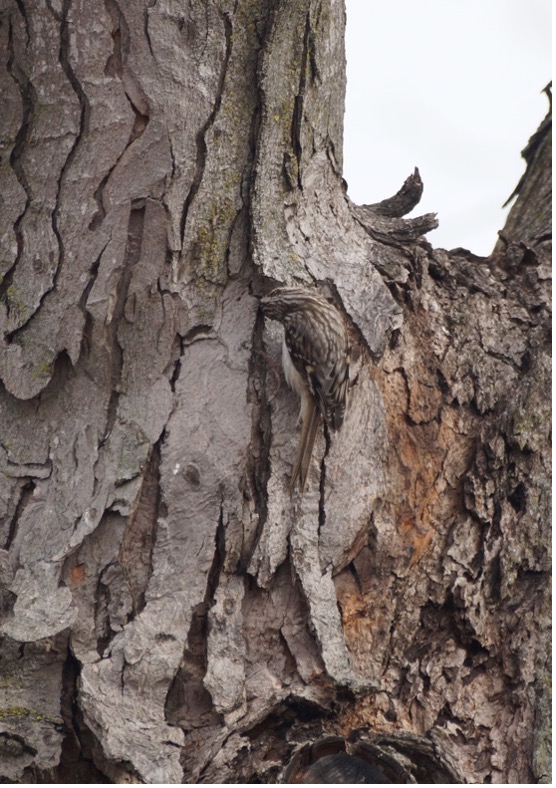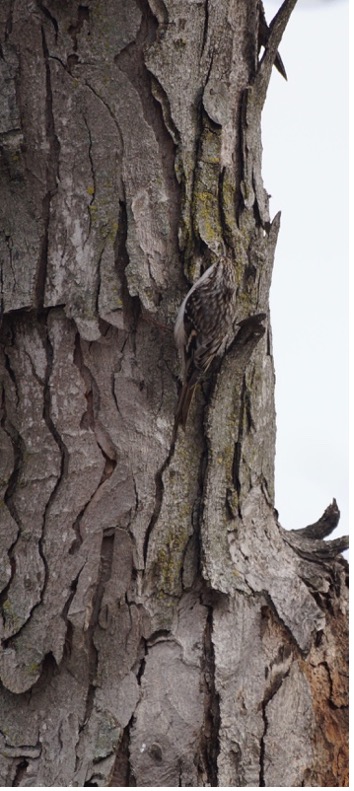 Working the bark up the tree – note the long, pointed tail feathers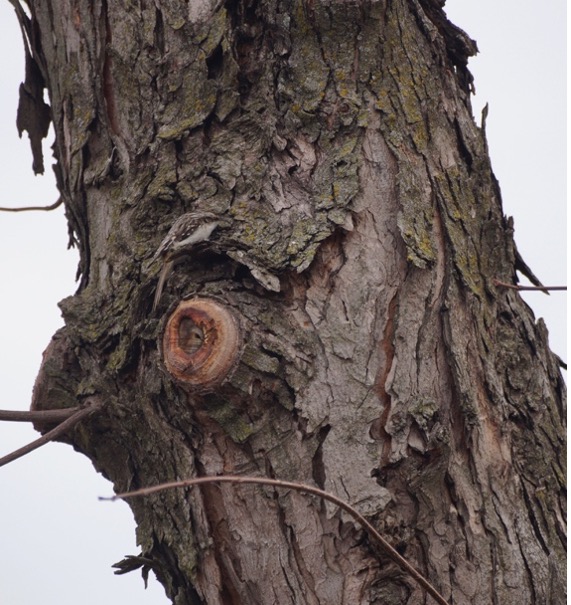 watch for and appreciate this peculiar little bird
The beauty of camouflage   
"Another thing that interested us enormously was how different the camouflage of the French looked from the camouflage of the germans, and then once we came across some very very neat camouflage and it was american. The idea was the same but as after all it was different nationalities who did it the difference was inevitable. The colour schemes were different, the designs were different, the way of placing them was different, it made plain the whole theory of art and its inevitability."  –Gertrude Stein
Camouflage patterns around the world – some designs can be as artistic as they are tactically successful – based on their ecological settings.  The Vietnamese tiger-stripe patterns (brought into use by Americans) were effective in dark jungles with lots of shadows.  Bespeckled "chocolate chip" camouflage created the desert patterns.  And journalists in areas of military conflict knew the advantage to being able to identify the patterns worn by different country's soldiers – and provide accurate information.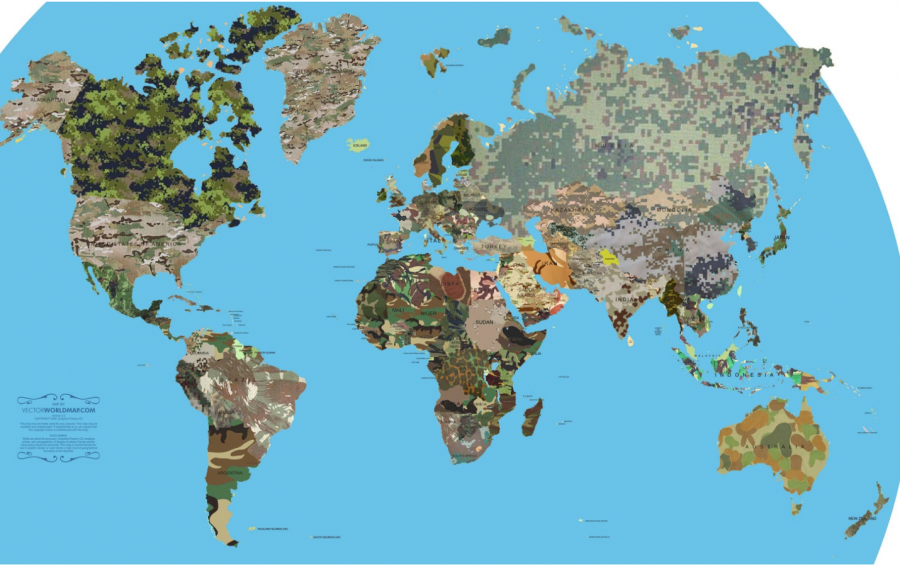 Literary Thoughts
from Dunwoody Pond by John Janovy, Jr.
"Even though the problem is a tiny one – e.g., the identification of a mayfly larva – the blunt truth is that for the average well-educated high grade point average pre-med, this problem is an extraordinarily difficult one.  Suddenly the value and validity of information are matters of extreme importance. You can't even begin to answer a simple question about diversity of life in a spring-fed Sandhills stream unless you figure out what that mayfly is. And there are no machines to help with this task.
Furthermore, when you finally finish with the mayfly, there's the bucket of damselfly naiads, small crustaceans, caddis fly larva, and beetles that await their turns under your microscope, and if your experience with the mayfly is any indication of the size of this task, then it's going to be a long, long, night in the lab. By dawn, the meaning of the verb "learn" will be altered; by breakfast, you'll be forever suspicious of decisions made in a climate of ignorance; and by the next evening, you'll approach the bucket from the Nevens well tank with an additional measure of maturity and a reasonable assurance that even the authorities make mistakes. Your seemingly simple exercise in comparative diversity of life in a stream vs. life in a well tank teaches you more about information in general than about arthropods.
Students never walk out on a bucket of gunk, especially if they've gotten dirty collecting it.  Among the millions of species that occupy planet Earth, only one takes showers on purpose, dresses up in nice clothes, and sleeps in a warm clean bed inside a building.  … I consider unfortunate those, who by virtue of choice, deny themselves access to the places that other species live."
Final Thought…
If you see someone wearing camouflage, make sure to walk right into them so they know it's working.